Welcome to The Sydney Radio Collector.

The Astor AR Baby - One of our smallest radios
I've been the owner of the green Astor Baby for a long time now, however last weekend I had to make sure it's twin sister came into my collection and I attended the final auction of the year in Melbourne to get this job done. I was well armed and was prepared to survive on cans of spaghetti for a fortnight to call this radio my own, though fortunately, the diet was not necessary.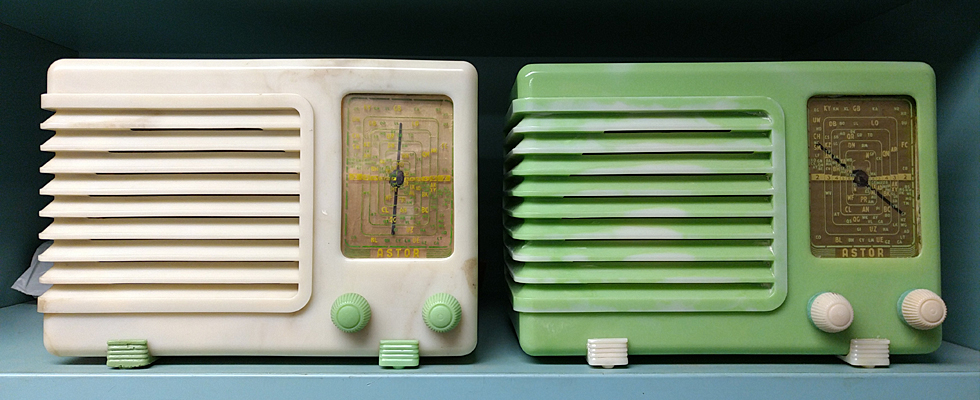 I was amazed to see that this radio runs on only two valves! The valve compliment is quite simple - 1 x 12B8GT and 1 x 32L7GT. The radio is working well aside from some slippage on the dial cord, which I will attend to soon and provides good volume for a set that doesn't have much in the way of amplification, unlike the later Model BR (the green radio above is a BR), which included a third valve, a 6V6GT and a 6X5GT instead of the 32L7GT, which is a combined rectifier and output amplifier.

There is a third and fourth colour in this model series, one of which has a dark brown cabinet with matching coloured feet and control knobs and the other being an apparently rare plain white cabinet with red feet and knobs, but acquiring these will have to wait until 2020.

Due to the small number of valves, these radios would have appealed to those with some serious budget constraints or maybe someone who wanted to hear their local station but didn't want any bells and whistles.
The AWA R24 Radiolette of 1934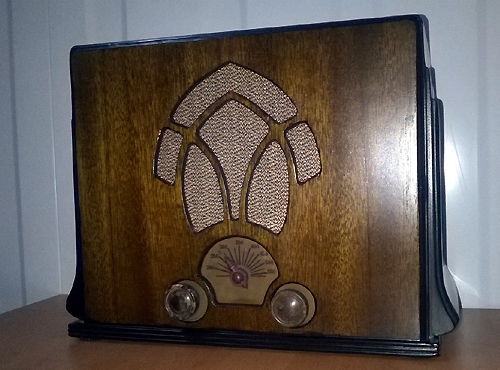 In 1932 AWA created the C87 Radiolette, which at the time was housed in the world's largest Bakelite moulding. This cabinet was the only notable Art-Noveau radio cabinet produced in Australia, with most manufacturers sticking with the Victorian look of the coffin boxes, moving later to Art-Deco timber and Bakelite. The Radiolette theme continued with the C104 in 1933 but by 1934 AWA's love affair with this radio waned and future Radiolettes would be small five-valve mantel receivers before WWII and after the war they'd be cut back to four-valve sets, being marketed as budget receivers.

The R24 was to become a precursor to the longer-running Empire State series that closely resembled the shape of the Empire State Building in New York City, USA. A similar circuit was used in the R24 and a very similar chassis was also used with the main difference being that the loudspeaker was mounted a little lower, slightly buried in the chassis and a smaller tuning dial in place to permit the lower profile. Unknown to many, AWA continued to build rebadged Radiolettes for the Australian General Electric Company (AGE) and there was a plain-looking timber variant made with plain brown knobs for this purpose. The Radiolette was fitted with marbled knobs.

This particular example presents quite well. It is in good original condition and is awaiting restoration of the circuit so it is safe to use. This will be a good project for the near future and should be easy enough to overhaul although AWA had a habit of mounting components in clusters in this series of receivers and that makes replacement of capacitors a bit time-consuming.

The tale of the tape

Make/Model: AWA R24 Radiolette.
Cabinet: Timber.
Chassis: Nickel plated steel.
Valves: 80, 78, 6A7, 6B7, 42.
Bands: AM, 540kHz - 1680kHz.
My favourite radio
Being fortunate enough to possess a reasonably large collection of valve radios that are either in very good condition, working or both often brings people to ask me what my favourite radio is. It's not often an easy question to answer for the simple reason that the answer has changed on so many occasions over the time I have been a collector. At this point in time, I guess my favourite radio would be a marbled white AWA Radiola, model 520M, also known as 'the fridge'. I purchased this radio at a recent auction held in the Hunter Valley in New South Wales. Such auctions that deal mainly with radios, test equipment and memorabilia are quite rare now but there are several per year in most states.

Getting back to The Fridge, this radio is an upright version of standard mantel-sized Radiolas and Radiolettes of the 1940s, hence the nickname. The chassis is simply mounted on its side to fit in the cabinet. Such radios are fairly rare and one has to bring quite a few pennies with them to win the bidding war. I literally had to just keep my hand raised to avoid straining my elbow but my persistence paid off. This model is quite attractive and whilst the cabinet has a style of its own it would be quite suitable in a setting from many previous periods - Victorian, Art Deco, Retro, 1960s, etc.

Before taking a liking to this radio my favourite radio was the Monarch model DKL. It's a dark brown radio but in mint condition and with one of the best tones I've heard from a valve radio, even before allowing for the small size of the loudspeaker - YES, it is that good. Before this my favourite radio was an AWA Radiolette model 500M. These were one of the most popular valve radios in Australia - common as house flies and there'd not be many radio collections in this country that didn't sport at least one. I have six of the seven eight available known colours: walnut, ivory, burgundy, cream, jade and turquoise. The other two are a very light brown and marbled white - one day...

I could go on about my favourite radio but as you can see the answer will always change. There's other worthwhile questions too:-

Q. What radio appears the most in your collection?
A. It's a tie, between the AWA 500-series Radiolettes and the Healing 401Es of the 1940s. I have six of each of the available colours in each of these radios. I am still hunting other colours for each one.

Q. What radio has been in your collection the longest?
A. A HMV model 441 timber table radio of the early 1940s.

Q. What is your oldest radio?
A. A Udisco (United Distributors) coffin radio with separate horn speaker, circa 1925.

Q. What is your biggest and heaviest radio?
A. An AWA Radiola radiogram from the late 1940s. Ten valves, huge 12 inch speaker and three speed turntable. I can't remember the model number.
How I got started
Since I was still at school I was fascinated at how valve radios worked. When I'd look at a sold-state radio it'd just sit there playing music. But valve radios come alive when they are operating. They have a heartbeat, they have a soul. The notion that something that was old could still work well was an added bonus. In the mid 1980s the fever was just getting more chronic. I had to have a valve radio, but where could I lay my hands on one. It would be something like three years before it'd happen. In the meantime I would started reading the vintage radio articles in Electronics Australia and Silicon Chip magazines.

The articles mentioned above just made my pre-addiction worse than ever and by December, 1988 D-Day had arrived. I was in Munro's Mill Antique Centre in Tamworth, NSW and saw a Kelvinator mantel radio sitting just inside the window - no cabinet but the radio did work. It was mine for the grand sum of $3.00. That seems a princely amount these days but when all one is getting for income is the tertiary education allowance of around $34.00 a week then yep, it is hard to collect radios.

Following this day, I'd listen to that radio at night after the day's work was done. It wasn't a safe thing to do however so I felt it was then time to purchase another radio, this time one with a cabinet. I don't remember the name of the place but there was a large antique shop opposite Tamworth Railway Station and it was in there I bought a HMV 441, a large table model with five valves and a six inch speaker. It was also a goer though the timber cabinet was in need of treatment as it was in rather poor condition. This radio features several different inlaid veneers and much of this was peeling and a small portion above the loudspeaker was missing. This radio cost me $15.00. The antique shop is long gone and was replaced with a NSW Government office block. Come to think of it, Munro's Mill Antiques is also gone, replaced by a block of flats (I think).

Before putting the HMV into regular service I decided that it would be good to practice restoring radios and knowing that this model wasn't a particularly old one at the time there'd be little harm in using this set for such practice. It was stripped back, sanded, veneer repaired, given another light sand and then a couple of layers of new lacquer applied. The speaker also needed some repairs due to a few large stab wounds (made by others) and it was decided that a reconing would be necessary. So I got in some practice with that too. As things turned out I did a better job with the cabinet than the speaker. The speaker got its new cone but I failed to hold the voice coil still whilst the glue dried. Still, it was early days and one lives and learns. The radio still sounded okay but lacked a little bass due to the voice coil's cardboard former poling on the magnet.

About a year after I started life as a collector I was back in Munro's Mill buying a late 1950s HMV radiogram. Everything worked and the cabinet was in very good condition. Nothing to do here but take it home and start playing records on it - which I did until later events in life, such as a shift to Sydney to start a new job got in the road. From that point onwards I have purchased almost 300 radios, sold about 80, used around 20 for parts and wasted many hours shifting the bloody things every time I move house, which thankfully isn't very often these days. Still, despite the misery of having many optional possessions that require a great deal of care to move about, I wouldn't have it any other way.

In finishing, many will not help but notice that I failed to mention anything about restoring radios electrically before regular use. It wasn't so important back then as Australia's fleet of valve radios was much younger. These days, with tens of thousands of radios more than 50 years old, power should not be applied to any radio to see if it works. At all times a radio should be serviced by an experienced person before power is applied to it. Valve radios contain very high voltages on many of their parts and age, a lack of maintenance and a build-up of dust are a good recipe for electrical failures, some of which can start fires. I have more to say on this elsewhere on the site.
Pilot Thread - Welcome
This website has been launched today to fill a gap created by the evolution of another vintage radio related website I have owned and run since about October, 2003. At that time, this other site was a personal website set up by me to display my vintage radio collection and a few articles on radio restoration and safety. Since 2005 the site started to grow and in mid-2005 I launched two discussion forums there, which I may add were not a success. I re-launched the forums by adding a third and renaming the other two and today they have grown into Australia's only vintage radio discussion forums with 15 forums covering a wide range of subjects relating to vintage radios and other electrical items and there are nearly 1900 members at the time of writing - probably more members than the traditional radio clubs all told.

I guess that an advantage of membership of a club is the association with other vintage radio collectors, restorers and historians. Most clubs require the payment of a fee and that your enrolment is moved and seconded by existing members. If the motion is agreed to you are in, and get to enjoy the meetings, periodical club publications, auctions and swap-meets, etc. On a website there is a less formal arrangement - just sign up and you are in and more often than not, no questions asked. The big advantage of forum membership is that there are no fees an there is nothing stopping forum members from arranging their own meet-ups or buy/swap-sell of radios and parts. In fact, the trade in radio parts on websites is increasing, probably due to the size of our country where two members can be up to 5,000km from each other as the sparrow flies. So the bottom line here is, the forums pretty much displaced the original purpose of that site and things there are rolling along quite smoothly. So with that, it's time to bring back my personal website, relaunched with new content and a more modern web development framework.

This website will include many articles, written at random times, when time is available and when a suitable topic is at hand and topics will include describing radios from my own collection, safety and restoration tips, vintage radio history, famous people and probably the most important subject of all - how to get started if you are new to this game. There is a lot to consider when wanting a collection of your own.

New members are quite welcome here. To become a member, just fill out a very small membership form and you will receive an e-mail with a link to click on to activate your membership. After this, you are free to log in and reply to comments already on this website. You won't be over-burdened with rules but the usual dos and don'ts will apply with regard to advertising, foul language and other silly things, and of course it will be a mutual arrangement - this site doesn't fill your e-mail inbox with junk either. We are here to help each other. (NOTE: Membership will become available once the site is fully operational in a few months.)

So welcome to The Sydney Radio Collector website. I hope you will be a regular visitor in the future.