Welcome to The Sydney Radio Collector.

Another 517M comes to the party
Yet another AWA Radiola 517M has been acquired to take its place in a collection which has expanded very slowly of late but has expanded on a particular theme - they've mostly been made by AWA and were made in the late 1940s. The spread of the coronavirus seems to have got people spending money on things other than radios and this has brought prices down in most cases. There is also the other unfortunate aspect of the presence of the virus, where a lot of people are now out of work. Again, this will bring a halt to the expansion of hundreds of collections and the big reduction in competition at auctions, online or otherwise, will have a downward effect on prices. I wish everyone who is looking for work the best of luck. I know what it's like to be out of work and I do hope that the national economy improves as quickly as possible so that those whose jobs have disappeared because of the coronavirus can get back into work as soon as possible.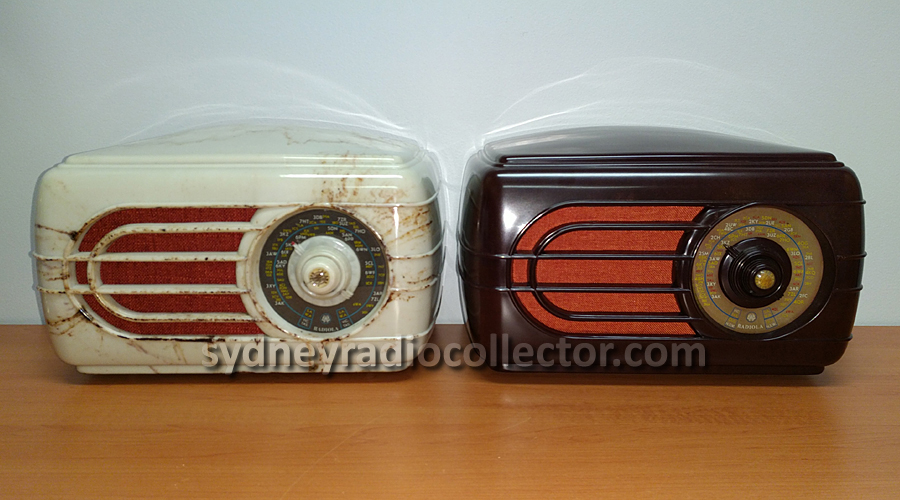 This radio (on the left in the photo) is a very rare colour, probably because it would not have been in great demand by buyers. "Ugly!" would have been the word used by most when browsing their local department store for a new radio for the kitchen. But from a historical perspective, radios in these rare colours are like finding gold bars.

One thing worth noting is that many of this model came out with an all-states tuning dial, where the stations from each state were marked. This radio is slightly different in that the stations from New South Wales and Queensland have been omitted. This radio may have simply been sold in Western Australia or South Australia or it could be from the latter end of the lifecycle, where more stations would need to be squeezed on the dial, thus a need to reduce the number of states represented.

The last thing I need to bring to the attention of readers is that I have discovered two recent instances where images have been lifted from this site without my permission and used in a commercial setting. This is not on. I will reserve my right to take action against those doing this. Do not take images from here assuming that it will be okay because it will most likely not come with my approval. Ask for permission first or refrain - it is that simple. In future, images are being watermarked. I apologise to those who are doing the right thing and will have their experience here compromised by the water marks but the thefts have to stop and this is the only way of achieving it as far as I know.